HairStyles Directory - AllAboutHairStyles.com
This Hairstyles Directory designed to help its users find hair styles information, source, companies, products and services... It's your one-stop destination for anything you can think about hair styles.


Art Renewal: John William Waterhouse paintings (long hair)
Beauty In Advertising - Cool Retro Hair
Blue Heron Woodworks - Handcrafted hair accessories and more!
Braided Image -braiding instruction materials, photographs and more!
Bronze Jewelers - handcrafted hair accessories

Conditioner Washing Only? Read this!
Cosmetic Cop - Ingredients directory
Dressy Tresses - hair accessories and styles
Feye's Self Trimming Instructions
Finding Braids / Exquisitely Done
Hair Finder - The hair fashion portal
Hand Made Hairsticks - Carrawayseed and BusyHSmom's site
Henna Application by Madeleine
Ingredient listing - Want to know what's in your products? Maximum Beauty
Ingredients Listing - EWG Report
Ketylo Hairsticks - Treasures From the Tree
Lisa Janey's Satin pillowcases, turbie towels and more!
Living Nature - Product Elements
~~ Long Hair Care Articles ~~ By Robert / PurpleBubba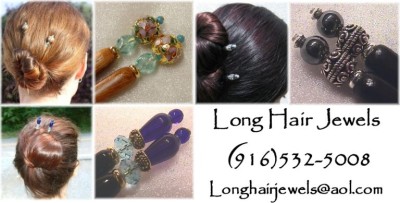 Madeleine's Twisted Pages (specializing in French Twist Instructions)
Morrocco Method - Main website
Morrocco Method - Product Information
Nature's Wild Child- oils, butters and more!
Exquisite One Of A Kind Handcrafted Hair Sticks, Hair Care, And Beauty, For The Woman Who Loves The Finer Things In Life.
Ric the Combmaker - Sierra Legacy Combs
Safe Traders, the list of those who swapped and bought...
Sampson's Secret Herbal Hair loss treatment and natural hair re-growth products. Get a long term remedy for a receding hairline.
Sierra Legacy Combs - carved wooden combs
Haircutting Scissors and Haircutting Videos; HairCuttingSite.com has quality haircutting scissors and haircutting videos, DVDs, and ebooks for those who want to learn how to cut hair and do it right.

The International Long Hair Club
Trimming Your Own Hair Link (Feye's method)
Valley Vet - Mega Tek Conditioner Supplier
---
All images and graphics are Copyright of their respective owners. Reproduction in any form, or use without express written consent of D.A. Fox and Our Contributors is strictly forbidden and punishable in a court of law.